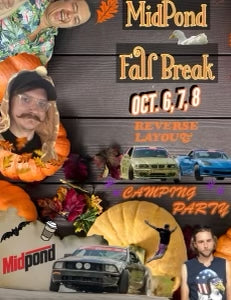 Fall Break Drift Party - Oct 6th - Oct 8th
Regular price $315.00 Sale
LIMITED DRIVER SPOTS AVAILABLE
Fall Break Drift Party! 3 days of drifting and partying. Reverse layout all weekend. Night drifting. Camping is recommended. Open driver registration. 40 driver cap. 25 HOURS OF DRIFTING!!!

Gates open Friday at 1pm. Track hot at 4pm and cold at 9pm. Saturday/Sunday gates open at 8am, track hot at 10am. Saturday track cold at 10pm. Sunday track cold at 6pm. 
Reverse Layout will be included.
Registration and rules will be on midpond.com
Media spots are available. Send your media applications to media@midpond.com.